Formats of the statement of cash flows
In Formats of the statement of cash flows, a cash flow statement is also known as the statement of cash flows. It is a financial statement that shows how changes in balance sheet accounts and income affect cash and cash equivalents, and breaks the analysis down to operating, investing, and financing activities.
A company's financial statements offer investors and analysts a portrait of all the transactions that go through the business, where every transaction contributes to its success. The cash flow statement is believed to be the most intuitive of all the financial statements because it follows the cash made by the business in three main ways—through operations, investment, and financing. The sum of these three segments is called net cash flow.
How Cash Flow Statements Work
Every company that sells and offers its stock to the public must file financial reports and statements with the Securities and Exchange Commission (SEC).1 The three main financial statements are the balance sheet and income statement. The cash flow statement is an important document that helps open a wind interested parties' insight into all the transactions that go through a company.
There are two different branches of accounting—accrual, and cash. Most public companies use accrual accounting, which means the income statement is not the same as the company's cash position. The cash flow statement, though, is focused on cash accounting.
Formats of the statement of cash flows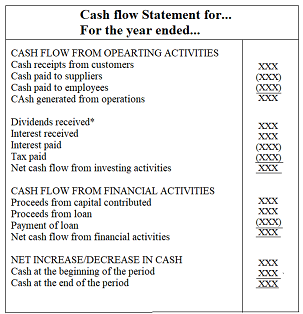 Notes on the Format Above
Cash can flow in two directions – either coming into your business or going out. Cash coming into your business is shown as positive amounts, whereas cash going out from your business is shown as negative amounts (in parentheses).
Note that dividends are cash payouts to people who have bought shares in a company. Dividends are similar to drawings (in a small business), in that the owner is getting a payout (drawings is when the owner of a small business withdraws some of the cash that s/he initially invested in the business for personal use).
Proceeds simply mean cash received.
It's important to note that the cash flow statement covers the flows of cash over a period of time (unlike the balance sheet that provides a snapshot of the business on a specific date).
Like the rest of the financial statements, the cash flow statement is usually drawn up annually but can be drawn up more often.
You may also like Financing, investing, and operating activities