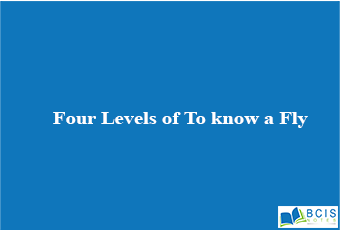 To know a Fly:
        1.Literal Comprehension
To do experimental in anything, we should pay great attention to objects or things. Otherwise, our conclusion doesn't get a reality. As an example, a scientist thinks that the window shade & if he hadn't pulled down, the house would not have fallen down. If a scientist wants to know whether a fly tastes by his leg or pro basics, he should do an experiment properly.
Though a fly doesn't taste food with a tongue as we humans do, but it has the greater power of tasting than us. It is never fooled by artificial sweet. if it feels touch salty water & chilly it will not lower his feel. That's why the fly is so sensitive & so powerful faster in comparison with his mouth. The writer's friend in comparison with his mouth. The writer's friend has a greater interest in studying the fly's stomach. He experiments it by touching his mouth with dye. Later a while studying its stomach he gets colorful stomach he gets colorful stomach this finding clearly, tells us that fly laster with feet & love what we human love to eat.
2.Interpretation
This essay tells us that we should not draw conclusions observing minor or part things. To get a conclusion, we should pay great attention to whole ideas & we should also understand the nature of the objects. If we made a hasty conclusion, our conclusion, it is essential to have patience on our wrong conclusion, it is essential to have patience in our experiment or research on the object. In text, to know the fly tastes by mouth or leg, there has been done the experimentation & finally has been reached in conclusion that flies tastes with its leg.
      3.Critical Thinking
After reading the text, the writer provides various facts about the fly but there arise some questions on my mind that need to be asked to the written they are:
Do a thirsty fly touches the lemon water?
Do a fly capable to make differences in sugar & sell food?
      4.Assimilation
Before reading the text, I was unknown about the facts of fly & then a way of doing the experiment but now all the facts & ways came to my mind so that the process that is needed to do the experiment can be formulated. The files are more sensitive than humans. A fly taste with its leg.
These are the conceptual notes of Four Levels of To know a Fly.
You may also like: Four Levels of No Smoke From The Chimneys