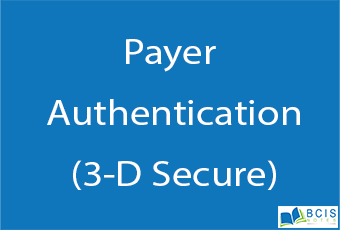 Payer Authentication (3-D Secure)
Payer Authentication (also known as 3-D Secure) is a solution created by credit card associations to provide additional fraud protection by asking cardholders to authenticate themselves to their issuing bank at the time of purchase. A cardholder's identity is confirmed using one of a variety of authentication methods, and merchants are provided with instant authentication results thereby greatly reducing the risk of unauthorized use.
Advantages
Reduces Fraud – Merchants can verify that the person using the card is the cardholder.
Charge-back Protection – Authenticated transactions may not be charged back if the cardholder alleges they did not make or authorize the purchase.
Increases consumer confidence – Assures consumers that their transactions will be secure, leading to increased sales.
Disadvantages
Each extra security field added to an online form can seriously lower the number of completed transactions.
Moreover, some customers might not know what 3-D Secure is and they can close the browser window. This of course will lead to lost sales.
There is an extra fee for the service.
How does the payer authentication process work?
Consumers enroll their Visa or MasterCard credit cards in the Verified by Visa or MasterCard SecureCode programs at their issuing bank's website. During the enrollment, they choose a password to associate with their card. When they use that card at a merchant enabled for Verified by Visa and MasterCard SecureCode, they are prompted by their issuing bank to 'sign" for the purchase with their password.
Using 3-D Secure is advisable but the merchant also has to decide whether adding this extra step will be in the best interest of their business. In general, each merchant should have an idea of the volume of sales that they will lose and will then calculate how much can be gained on chargebacks and fraud by offering 3-D Secure. 3-D Secure definitely makes your payments safer and more trustworthy but for some of the clients, it might be an inconvenience.
If you liked our content Payer Authentication (3-D Secure), then you may also like Gift and Prepaid Card