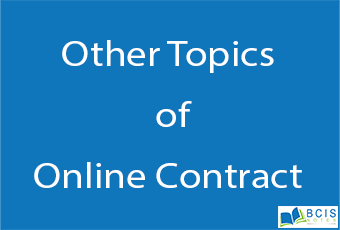 Other topics of Online Contract
The other topics of the online contract are given below:
Consumer Transactions
We make consumer transactions all the time. Each time we buy a car or a refrigerator, or even make everyday purchases like buying groceries or gasoline, we enter into a sales contract. And whenever we enter into the marketplace, we are also protected by a wide variety of federal and state laws. Knowing your rights and available options as a customer can make a difference after your next problematic purchase. This section contains articles covering common topics related to consumer transactions. You'll find articles on returns and refunds, gift cards, online shopping issues, and warranties. You can also find information on when and how to contact a consumer law attorney.
Returns and Refunds
Your first point of call should you purchase an item that doesn't work is the seller or manufacturer. Most businesses care about customer satisfaction: it's how they attract new customers and keep existing ones. However, sometimes returns and refunds aren't straightforward, and you can benefit from understanding returns, refunds, and the law. First, while most sellers will offer returns or refunds, they generally aren't required to unless a product is defective. Second, you will often need a receipt or proof of purchase. Finally, there may be additional consumer protections available to you depending on where you live.
Gift Cards
You have legal protections for any gift card that comes your way. Federal law prevents issuers from charging inactivity fees until a year of inactivity has passed and requires gift cards to remain valid for five years. Some states have banned expiration dates and fees altogether. This section contains more information on gift cards, the law, and your rights.
Online Shopping
Online shoppers face concerns unique to the Internet. Many online purchases are made across state lines, which can raise issues about shipping. There are also some important federal laws affecting online shopping. For example, customers who purchase an item online, over the phone, or through the mail are supposed to receive it within 30 days. If this doesn't happen, customers are entitled to a full refund.
Federal law also protects consumers who are billed for items that never arrive. Finally, the law makes credit card companies, not consumers, liable for most fraudulent purchases. This is why it's recommended to make online purchases with a credit card. This section contains numerous articles on online shopping and online purchases.
Warranties
Warranties are one of the consumers' best defenses when it comes to transactions. You can likely recall advertisements or product packaging guaranteeing satisfaction. These are valid, legally enforceable express warranties. There are also warranties that automatically attach at a consumer transaction. Almost all products come with a warranty that they will work as they're supposed to. This is called the implied warranty of merchantability.
When you purchase a product for a specific, stated purpose beyond its ordinary use, a warranty may be created as well. This is called the implied warranty of fitness for a particular purpose. Warranties may be limited or full and voided under certain circumstances. It's important to understand your rights should a purchased item prove problematic or defective. This section contains many articles on everything from implied warranties to product defects.
Consumer Law Attorneys
If you have a problem involving a commercial transaction, your first step should be to contact the product's seller or manufacturer. Generally, businesses will work to leave their customers satisfied. If that doesn't work or if more serious issues such as fraud or invasion of privacy arise, consider contacting a local consumer law attorney to discuss your case.
If you liked our content Other Topics of Online Contract, then you may also like Formation of Online Contract