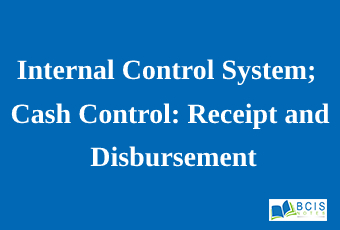 Internal Control System
The internal control structure of a company consists of the policies and procedures established to provide reasonable assurance that specific entity objectives will be achieved. An internal controls system includes a set of rules, policies, and procedures an organization implements to provide direction, increase efficiency and strengthen adherence to policies.
Three elements of the internal control system are:
Environment control: The attitude, alertness, and work-zeal of directors, managers, and shareholders are reflected through environmental control.
Accounting system: Accounting system means some procedures and recordings with which identification of business transactions, classification, summarization, statement preparation, and analysis for timely presentation of correct information are performed.
Control procedure: The additional policies and procedures adopted by the business authority for ensuring the achievement of the specific goal of a business organization are the controlling procedures.
These control procedures are:
Proper delegation of power,
Segregation of responsibility,
Preparation and use of documents,
Adoption of adequate security measures to protect the properties, and
Independent control over the execution of activities.
5 Components of Internal Control System
1.Controlling the environment
The control environment is the basis of other elements of all other components of the internal control system. Moral values, managerial skills, the honesty of employees and managerial direction, etc. are included in the controlling environment.
2.Risk assessment
After setting up the objective of business, external and internal risks are to be assessed. The management determines risk controlling means after examining the risks related to every objective.
3.Control activities
The management establishes a controlling activities system to prevent risk associated with every objective. These controlling activities include all those measures that are to be followed by the employees.
4.Information and communication
Relevant information for taking decision are to be collected and reported in proper time. The events that yield data may originate from internal or external sources.
Communication is very important for achieving management goals. The employees are to realize what is expected of them and how their responsibilities are related to the activities of others. Communication of the owners with outside parties' like's suppliers is also very important.
5.Monitoring
When the internal control system is in practice, the organization monitors its effectiveness so that necessary changes can be brought if any serious problem arises.
Cash Control: Receipt and Disbursement
Cash Control means managing and monitoring credit and collection policies, cash allocation, and disbursement policies, accounts payable policies, and the invoicing cycle. Cash Control is an important part of business as it is required for proper cash management, monitoring and recording of cash flow, and analyzing cash balance. Cash is the most important liquid asset of the business. A business concern cannot prosper and survive without proper control over cash.
Steps of Cash Control are;
Cash transactions of a business are to be accounted for properly to know cash flow and cash balance.
Cash sufficiency is to be ensured on due dates of notes payable.
Idle cash should be minimal because additional cash investment earns more revenue.
Loss caused due to misappropriation and forgery is to be controlled and stopped.
The necessity of cash control is very clear and it has many sides. A business cannot survive without time-related cash flow and proper cash management.
Controlling of Cash Receipts
A business concern can receive' cash of sale proceeds immediately after the sale or at an interval of some days or weeks. A cash counter clerk records cash receipts immediately and posts them into the cash register. If cash receipts of cash sales are recorded in the cash register in the presence of the customers, it is almost certain that the cashier has recorded be a correct figure of cash in the cash register.
At the close of the day, the accountant reconciles the balance of the cash register with that of the cash register-tape or computer statement (for register concerned). Later, when a cheque is received for sale, the accountant records it immediately in the books of accounts. A business concern receives cash through cheques from customers after the expiry of a certain period.
You may also like Petty cash, balance sheet presentation of cash and cash equivalent