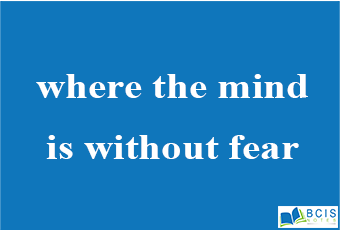 Four Levels of where the mind is without fear
1.Literal Comprehension
Human beings gain knowledge freely if their mind is free from any kind of fear, The poet says that the modern world is full of darkness. As a result, the world is fragmented. There is no sense of unity, love, peace & justice among the people. Therefore, the poet wisher to see are this modern ugly world as a world of freedom, beauty, and heaven. He is optimistic to change the dark face of the world by establishing humanity, injustice, rules & regulation, peace, equality, freedom, unity & Fraternity. For that, he prays with god to make the world in heaven.
2.Interpretation
The poem is dedicated to establishing humanity, Peace, Unity, justice & freedom, in the world. When there is knowledge free from any kind of violence, injustice & discrimination, then we can change the modern world into heaven. This poem attempts to visualize knowledge, courage,self-dignity among all people of the world. The poet wants the world not fragmented rather united where all people of the world feel that they are under the same umbrella. So, he wishes to see the constructed new world avoiding destruction caused by war, violence, discrimination & jealously. Dreaming of such a world, he prays to god to play the active role to transform the ugly & computing world from world to world of freedom. Peace & heaven. He even requests all people of the world to make & live in such a better world.
3.Critical Thinking
–The poem is persuasive, moral, and patriotic
Is it possible to make & authority to change the world of heaven?
Does God have any power & authority to change the world?
Can the world exist without injustice, war & violence?
Is there God or not?
Can it be possible to transform the real world into the ideal one?
4.Assimilation
I am very much impressed by the ideas of the poet, Tagor who expressed the poem. It teaches me along with all people to construct a peaceful society where there is humanity, unity & justice.
These are the conceptual notes of Four Levels of where the mind is without fear.
You may also like: Four Levels of Third Thoughts