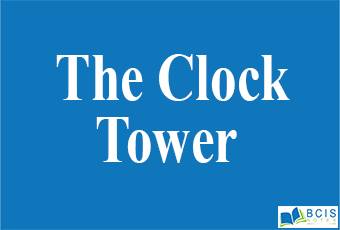 The Four Levels of The Clock Tower (Bhupi Sherchan):
1. Literal Comprehension
The poem 'The Clock Tower' starts with the poet saying that some of the clothes have been worn off, some are gnawed by the rats. Then the remaining others were distributed among the kith and kin. In this way, all of his military outfits that the poet has are now gone.
But he is still jealously, guarding the two cherished souvenirs of his army life; keeping them to himself. Among those two things, one is an ancient hat that is still on his head.
Similar to the pensioned vet, the poet is also spending his long, sad days of old age all alone. Likewise, the clock tower, Ghantaghar who has been cast bait into the Ranipokhari which is brooding standing on its bank forever and alone.
2. Interpretation
Through the poem, the poet is trying to show the cherished life of a young person and the lonely life of the old one. It's amazing how fast the time changes, just some years ago poet was sharing his army souvenirs among his peers. Enjoying his young day and now he is alone. No longer does he have his family and friends surrounding him. Here, the poet has compared the life of the old pensioner to the Ghantaghar. The poet is also standing all alone castaway on the banks of Ranipokhari.
3. Critical Thinking
The amazing story highlights both the young and old age of people of the army.
But the question is just because a person is no longer working as an army officer, his friends and family will leave him?
Or is the loneliness because of the major part of his life; the army life is passed away?
4. Assimilation
I don't really know much about army life but I do know a few things about retired army life. My grandfather was in army life. My grandfather was in the army too so when I was born. He said that he finally has someone to take with him for his walks so as soon as I could walk he used to take me with him. During the years I felt that it might be due to the lack of thing to do, retired life means living freely without any care but all those years in the army, have been so pressured with lots of talks to do that they get used to it and miss it at later times.
You may also like Four Levels of The Telegram On the Table