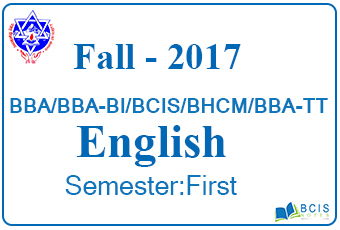 This is the question set along with answers of English – Fall, 2017, for the first semester which was taken by Pokhara University.
POKHARA UNIVERSITY – English, Fall 2017
Level: Bachelor                                           Semester: Fall                                  Year:2017
Programme: BBA/BBA-BI/BCIS/BHCM/BBA-TT                                         Full Marks: 100
Course: English, Fall 2017                                                                                     Pass Marks: 45
Time: 3 hrs
Section "A"
Attempt all the questions.
1. Answer any two questions.
a. Apply the four levels of interacting with the text to "If Not Higher" by I.L. Peretz.
OR,
The parrot in the cage is an example of a human-animal relationship that exposes the cruelty and human injustice of dominance over animals. Now, based on your textual reading and analysis, evaluate the following questions.
i. Who is the speaker of the poem? Why does he call himself 'a twice-born child'?
ii. What is the present difficulty of the speaker? Compare and explain how the parent-child relationship becomes significant in the poem.
iii. How do you evaluate human sensibility towards the non-human in the poem?
iv. What have you learned from this poem especially through the speakers'' judgment upon a human being in the last stanza?
b. Do you think modern technologies have too much or too little influence on the success and failure of the business? You should offer detailed reasons for your views.
2. Answer any five of the following:
a. Discuss some of the popular business departments in today's company. How can different departments contribute to achieving the goal of the company?
b. What is teamwork? What are the advantages and disadvantages of working in a team?
c. Think of a particular job. Describe the skill, experience, and qualifications that a new employee has to meet to apply for.
d. Summarize the story "The Cabuliwallah" by Rabindranath Tagore.
e. Present three arguments for and against the uses of television in modern society as elaborated in the essay "Curbing the one-eyed Monster".
f. How do you agree with Nissani that university education helps to enhance opportunities for career advancement?
3. Give short and pertinent answer to any five questions:
a. How did Shep react when Mr Balles dragged him and said "you big blogger"?
b. What did Astyages do with Harpagus to take revenge?
c. "Social networking site – such as Facebook – does more harm than good in the workplace." To what extent do you agree, state your views.
d. Write a conversation between a hotel receptionist and a customer inquiring about the cost of double bedrooms for two nights.
e. Discuss why Richard Wright wants to read the books of H.L. Mencken?
f. Why does the speaker weep like a child in the poem "Piano"?
4. Correct the mistakes:
a. You do work for Terranova?
b. Does Jane works for HSBC? Yes she do.
c. Your company employs 500 people?
d. Nokia don't works in the automobile industry.
5. Write an apology for each:
a. You're late for a job interview.
b. You didn't book a hotel for your boss.
c. A customer didn't receive a delivery.
d. You didn't remember your colleague's birthday.
6. Take out the word that doesn't match with the nouns.
a. Tight/busy/public schedule
b. Busy/annual/quiet period
c. Public/time/annual holiday
d. Tight/busy deadline
You may also like Four Levels of If Not Higher