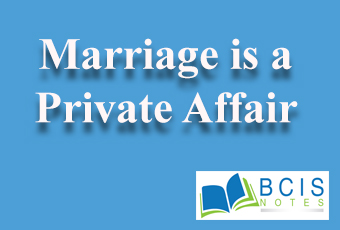 Four levels of Marriage is a private affair
1. Literal Comprehension
One day Nnaemeka gets married to a girl named Nene who is of different tribe than him. So, Nene asks Nnaemeka to convey this marriage to his father who lives far away in the village. He tells Nene how his father will not bless this marriage but still thinks about ideas to convince him. When he gets home, he receives a letter from his father that he has chosen a girl for him to get married to.
When he gets home his father starts telling him all about the girl he has chosen for him. Nnaemeka patiently listens to him and after gaining a lot of courage, he informs that he's engaged to a girl who is from a different tribe and is also a teacher. He expects his father to shout at him a lot but he just sits there and says he'll never accept Nene as his daughter in law. After this, both father and son start talking very rarely.
In the time being, the villagers tried to give Okeke various ideas of getting rid of the girl, but he didn't care about his son now to talk about him. Even after few tries from Nnameka he never accepts his wife.
As time went by, some villagers who got to know Nene, figured what kind of girl she is. Those people who were hostile towards her before become fond of her. This news got to the ears of Okeke too, but he didn't care about them at all.
One fine day, Nnameka got a letter which said that he has two grandsons who wanted to meet him since the day they heard about him. Nene has written him a letter asking him if he'd allow his grandsons to meet him and won't come with them.
2. Interpretation
First of all, as the title suggests the story is trying to tell us the marriage is a private affair. The decision to be made should be in the hand of the two parties involved. This is shown through the struggle between old traditions and modern beliefs. Here, old traditions still believe marriage is done between two socially and culturally equal people through their parent's choice whereas modern people believe it must be decided by a couple only. Similarly, it shows how unflexible old people are while matter comes to bending their passed down cultures and traditions. They'd rather cut ties with anyone who deviates from their path. In the end, the love of their grandchildren will always break down the emotionless wall that grandparents have to build around them.
3. Critical Thinking
What an amazing story it is to read, depicting the contemporary views of marriage in today's society where and traditions are still trying to have the same hols as they did before. But still, there are some points to be questioned and they are:
Would a father be so cruel to not want to talk to his son or see his face and even not to talk about him?
If the two people don't know each other or do not want to be married, how will their marriage be fruitful?
In the end, did Okeke forgive his son and accepted Nene, too or was it just his grandsons that he wants to have on his life?
4. Assimilation
It was 12 years ago when one of my uncles was forced to have an arranged marriage by my grandfather. He had been in love with a girl since his childhood. She was from a lower caste according to our society, so he cannot tell about it to his father. And after time passed by, uncle gets engaged with his love without telling his parents. So he had to move to another place and leave his own family, but they live a very happy married life.
You may also like Four levels of Marriage is a Private Affair