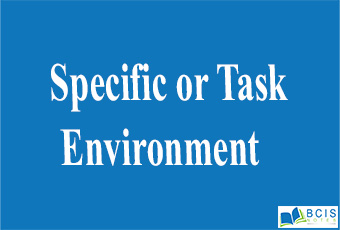 Specific or Task Environment
The task environment consists of specific organizations or groups that influence an organization's performance. Each organization may have a unique task environment and may change in accordance with time and situation. The specific or task environment is also known as micro-environment. The micro-environment of a business includes the factors in the immediate area of operation affecting its performance and decision making freedom. They include competitors, customers, distribution channels, suppliers, and the public.
Customers- The main purpose for the existence of most organizations is to satisfy the needs and wants of the customers. The enterprise aims to please the customer and earn a profit in return. So the ultimate aim is to provide the best products/services to the customer at the best prices. Failure to do so may result in failure of the business.
Competitors- There are no pure monopolies in the world. Every organization, whether big or small, has competition and competitors. So the company has to keep a constant check on their competitors. No business organization can ignore its competitors and their business strategies.
Suppliers- Suppliers provide the firm with the materials and factors of production they need to run the business. The relation between the company and the suppliers is a power equation. Both depend on each other for their survival.
Shareholders- Shareholders of an organization have an influence as the company want investors to increase for this they might make a decision to increase money by buoyant on the stock market, i.e. shifting to public from private ownership. This change will pressure the company as the public shareholders seek returns on their investment.
Media- The way media acts can make or break an organization. The organization should manage to keep a good relationship with the media as whatever it shows will directly influence the organization business. If the media will show a positive aspect, this will increase the business of the organization and vice-versa.
Therefore, the components of a specific or task environment are explained above.
You may also like General Environment