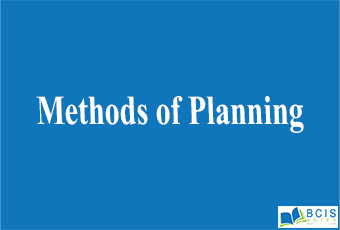 Methods of Planning
On the basis of tradition and assumption, organizations may adopt different methods of planning. It may vary from organization to organization. Broadly, we study the following methods of planning:
Top-down Planning
In top-down planning, the central office or headquarters of an organization develops and provides guidelines, which include business definition, mission statement, economic objectives, social objectives, financial assumptions, the content of the plan, and other special issues. Top-Down Planning is a method of planning, defining objectives and ways to achieve them through the top down. First, global (framework) goals are set, and ways how to achieve them. They are gradually moved to lower and lower levels of the organizational hierarchy to be developed and specified.
Bottom-up planning
Bottom-Up Planning is a method of planning, defining objectives and ways to achieve them through the bottom up. First, relatively close targets at lower levels of the organizational hierarchy are set. They are then gradually integrated into the framework of global goals and global strategy at higher and higher levels. bottom-up planning also called 'decentralized planning' which operates oppositely. The lowest operating levels inform top management of what they expect to do.
Composite Planning
A plan that is calculated by summing discrete components and which is usually associated with a period. This is often an annual cash bonus plan or other plans that depend on measurable past performance. These are compared and changes are made at both locations until they coincide. Once approved, such plans gain acceptance readily since everyone has been drawn into the exercise.
Team planning
Team planning is the ability of an individual or an organization to administer and coordinate a group of individuals to perform a task. The team planning involves teamwork, communication, objective setting, and performance appraisals. In a team to planning, a cross-functional team of managers having the requisite experience in various functional areas is constituted by the management.
You may also like Process of Planning